The Albany Great Danes started the game on a tear. Essentially landing one knockout blow and another on Mount St. Mary's. Which can certainly be highlighted by their 21-2 run to start the game. Really, it looked like it was curtains after just eight minutes of action.
However, The Mount is known for one thing and one thing in particular, the longball.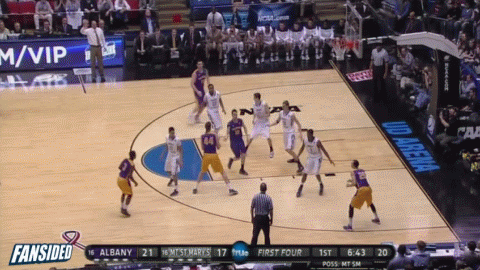 That was one of just a billion (approximately) threes that The Mount hit to get back into the game. Hitting threes to keep themselves in this game seems to be the plan, but it is something they have done all year. So none of this is a tremendous surprise.
The first game of the First Four — and the 2014 NCAA Tournament — is currently still very much a battle, with Albany up by four, 35-31.
It is also a very entertaining game, by the way. Even though the two 16 seeds are not going to go on any magical runs after this, they are certainly making the most out of the national spotlight that comes with a 6:40 tip.
Long live the transition, deep, from beyond the grave type three point bucket!
Get to TruTV to see the action. Come to Busting Brackets for updates. Do not, under any circumstance, drink lukewarm milk.
Tags: 2014 NCAA Tournament First Four Gif Mount St. Mary's Shot