Remember when everyone wrote off the Kentucky Wildcats?
But I bet you do remember everyone calling Aaron Harrison (his bother as well) a freshman who was not living up to his billing, right?
No? You selective memory mongols.
Welp: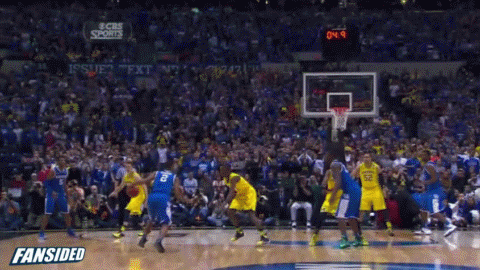 Not only does a lot of people have to eat their words (we are looking at you, Pat Forde), but John Calapari is taking his slew of one-and-dones for a little trip to the Final Four . Dancing slippers required, of course.
Michigan and Kentucky were tied at 72 points apiece as the game was coming to a close. Then, because magic, Harrison tossed up a shot that will echo throughout the history of the NCAA Tournament, especially if Kentucky ends up winning the entire shebang.
Next up for the Wildcats is the Wisconsin Badgers in the aforementioned Final Four. Somewhere, at least likely, Bo Ryan is attempting to conjure up some diabolical magic so he can eat the souls of freshmen throughout the nation.
You know, so he gains their powers — Mega Man style.
Tags: Aaron Harrison Final Four Game Winner Kentucky Wildcats