NCAA Basketball: 4 shooters most in need of improvement for 2020-21
Inefficient high-volume NCAA Basketball shooters can hold back a team, but even marginal improvement from them in 2020-21 could make an outsized impact.
The farther 3-point line may have slightly discouraged NCAA Basketball teams from the long-ball in 2019-20, but the "threes train" isn't stopping anytime soon. Three is greater than two, and coaches will keep encouraging these shots as a result (sometimes even when they're not falling).
(Credit to KenPom, sports-reference and hoop-math for statistics and ACC Digital Network, Pac-12 Networks and BIG EAST Conference for GIFS)
Inevitably, the 3-point revolution has led to some players recording ugly percentages on a substantial number of attempts. Some of these performances simply come from poor shooters, but others are likely better than their numbers suggest. Assuming attempts hold steady, even a slight uptick in their percentages could have a significant impact.
Per sports-reference, only eight returning major conference players met the following criteria last season: 1) shot <= 25.0% on threes, 2) attempted >=45 threes and 3) averaged >= 20 minutes per game.
Damien Jefferson – Creighton
Both Gach – Utah
Casey Morsell – Virginia
Bryce Golden – Butler
Wabissa Bede – Virginia Tech
Rasheem Dunn – St. John's
Sam Waardenburg – Miami
Quenton Jackson – Texas A&M
Each player's situation is different, but should one generally expect improvement from this group next season? This article will take a closer at the first four players.
Damien Jefferson – Creighton
3-point shooting 2019-20: 10-46 (21.7%)
Long-range shooting is a huge aspect of the Bluejays' offense, a unit that shot a 6th-best 38.7% on threes last season (even with Jefferson's struggles). Although the guard contributes well as a defender and interior scorer, he will surely be asked to continue shooting next season.
Jefferson needs to make just enough to keep defenses honest and make them think twice before sinking off him to cut off driving lanes. If Creighton wants to maintain pristine spacing with him on the floor, 21.7% likely doesn't cut it. Below, Jefferson's decision to pass is ultimately successful, but he needs to let some of these fly (notice his defender helping off him).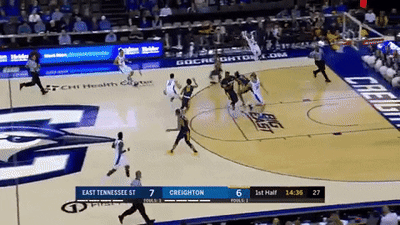 Jefferson's 13-33 (39.4%) performance his sophomore year suggests he might be better than he showed last season. He should continue to get solid spot-up looks in Creighton's offense (90.0% of his made threes were assisted last season per hoop-math).
Both Gach – Utah
30-120 (25.0%)
Gach was not afraid to put up shots last season, recording the 20th-highest usage rate in the nation. His 120 long-range attempts were by far the most of any of the eight players.
After going 20-62 (32.3%) to start the season, the sophomore finished the year only 10-58 (17.2%). To be fair, as the usage rate demonstrates, the guard was asked to do a lot offensively, and his shot quality was quite difficult as a result.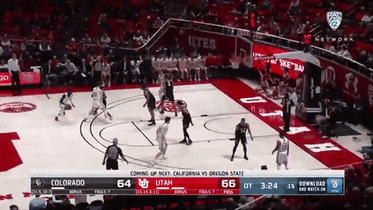 Goch is a talented player that already is a capable scorer inside the arc. As a primary ball-handler, however, he'll have to continue taking threes to keep defenses honest. If he can improve his shot quality and recapture some of last season's early success, there's plenty of reason to expect an improved performance.
Casey Morsell – Virginia
15-85 (27.7%)
Morsell should grow into a solid player for Tony Bennet, but he was asked to do too much last season for a Virginia offense that had A LOT of issues (234th per KenPom). The Cavaliers particularly had a hard time finding any long-range shooting (30.3% from three, 311th nationally). Although Morsell appeared much more comfortable in the mid-range, the team needed him to stretch himself to the 3-point arc.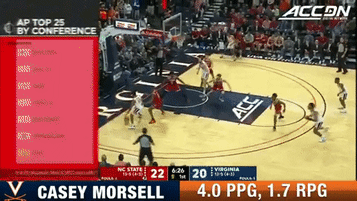 Despite the ugly numbers, last season's experience should benefit his long-term development as a shooter. Given his pedigree as a recruit and Virginia's strong player development track record, Morsell should take a positive step forward in 2020-21.
Bryce Golden – Butler
11-45 (24.4%)
Butler employed a lot of two-big offenses last season with both Golden and Bryce Nze on the floor (both will be back). The Bulldogs found success with this lineup, but at times needed Golden to step out to the 3-point line to provide some spacing (Nze only attempted five threes on the season).
Although Golden didn't shoot the ball well, he did just enough to at least make defenses get out and guard him. Below, Seton Hall completely ignores (or loses) Golden as he floats to the 3-point line to create space for the Nze post up. This creates a temporary spacing issue, but as long defenses consistently close out hard on him as they do below, then the forward is doing his job.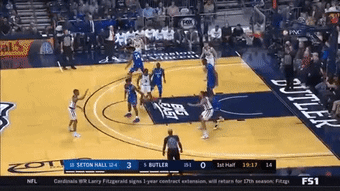 Still, 24.4% is 24.4% (not good). Golden has a fine-looking stroke, so hopefully, last season's 3-point reps translate into an improved 2020-21 campaign.
When it comes to struggling shooters, each player's situation is different. Some are taking threes because they have a track record of being a decent shooter (i.e Jefferson). Others are doing so for more developmental purposes (i.e. Morsell), while some are largely trying to keep defenses honest (i.e. Gach, Golden).
Regardless, each of these players shot poorly on a substantial number of attempts, and their improvement (or lack thereof) next season could have a tangible impact on their team's performance. Chances are, at least one of the four will take a notable step forward next season, and hopefully, they receive the proper recognition when they do so.