West Virginia Basketball: How Mountaineers can be 2020-21 title contenders
A young West Virginia Basketball team showed promise last season. What are the keys to the Mountaineers becoming contenders in 2020-21?
After jumping on to the national radar with an impressive "road" victory over then No. 2 Ohio State, West Virginia Basketball got off to a strong 3-1 start in Big 12 play (rose as high as No. 12 in AP Poll).
Things were unsteady from thereon out, however, as the Mountaineers finished 6-8 and 9-9 overall in conference play. Despite the somewhat uneven finish, there are plenty of reasons for optimism entering the 2020-21 season.
(Credit to KenPom and hoop-math for statistics and Big 12 Conference for GIFS)
The Good
1. West Virginia returns 8/10 players that averaged at least ten minutes per game last season and loses only one key contributor in Jermaine Haley. The roster will have plenty of capable contributors, a necessity for head coach Bob Huggins' "bench heavy" approach (5th in bench minutes last season).
Along with two incoming freshmen that are unlikely to be notable contributors year one, a talented junior college transfer in Kedrian Johnson will be entering the fold (averaged 25.6 points per game last season with Temple College).
2. Led by two freshmen and a sophomore in Oscar Tshiebwe, Miles McBride, and Derek Culver, West Virginia ranked 281st in experience last season per KenPom. After an offseason of growth, these young players (and the young squad as a whole) should be well-positioned to take a step forward.
3. Bob Huggins will be building on a foundation that was already quite successful last season. West Virginia was in position to earn a 6-seed per Bracket Matrix and faired even better per the analytics (10th, 16th, 20th in KenPom, Barttorvik and Sagarin respectively). Barttorivk even has the Mountaineers No. 1 in next season's preseason ratings.
Although the team only finished 3-6 to close the season, it's worth noting that one of the team's most impressive performances came in in its final game – a 76-64 home victory over No. 5 Baylor. If the season had continued, West Virginia was seemingly trending in the right direction. Could this momentum carry over into 2020-21?
4. West Virginia's strong foundation includes some formidable strengths. The Mountaineers were 3rd nationally in defense last season, ranking 8th in effective field goal percentage and 29th in turnover rate. Additionally, there was no better offensive rebounding team in the country (snagged 40.1% of missed shots).
5. The aforementioned trio of Tshiebwe, McBride and Culver should continue to give Big 12 opponents problems.
Tshiebwe: A former top 50 recruit, Tshiebwe was a dominant interior force at times throughout his freshman season. He was statistically the nation's BEST offensive rebounder, almost averaged a double-double at 11.2 & 9.3 and at 6-9, showcased an impressive combination of mobility and strength.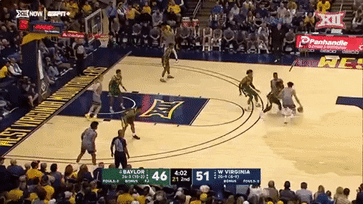 McBride: A former 3-star recruit, McBride exceeded expectations his freshman season and was arguably the team's best scorer from the guard spot. Although a bit streaky, he provided a much needed offensive punch off the bench, demonstrating some impressive off-the-dribble shot-making.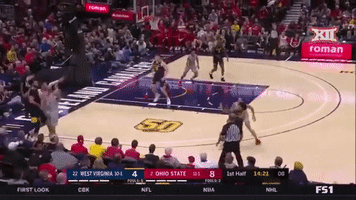 Culver: Statistically, the 6-10 forward's sophomore season looked very similar to his freshman campaign.
2018-19: 11.5 points, 9.7 rebounds, 1.7 assists on 45.7% shooting
2019-20: 10.4 points, 8.6 rebounds, 1.7 assists on 45.7% shooting
This was partially driven by a stable usage rate (25.4% to 26.6%), with any growth partially impacted by Tshiebwe coming on to the scene. Despite the lack of statistical improvement, Culver's contributions should be appreciated.
Per KenPom, the forward was the nation's 18th-best defensive rebounder and 20th-best at drawing fouls. Like Tshiebwe, Culver possesses both the mobility and strength to be a force in the post.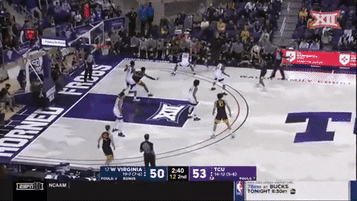 The Bad
Despite all the reasons for optimism heading into 2020-21, West Virginia will have to improve in certain areas to truly reach contender status. The Mountaineers' staunch defense didn't translate over to the offensive end, where the team ranked only 67th nationally.
West Virginia was only 242nd in 2-point percentage (47.9%), 297th in turnover percentage and 334th in free throw percentage (64.2%). The team attempted threes at the 329th-highest rate and only made a 338th-best 28.6% of them.
3-Point Shooting
As alluded to, West Virginia's 3-point shooting needs to significantly improve and may be the biggest determining factor as to whether the team becomes a contender. Are there any players that might help the cause next season? Six players attempted at least 50 threes in 2019-20.
Kedrian Johnson: 75-198 (37.9%)
The incoming transfer is likely the Mountaineers' best hope for improvement and could be the team's best shooter from day one.
Miles McBride: 24-79 (30.4%)
As discussed, McBride was streaky as a shooter last season, but his ability to hit difficult off-the-dribble shots bodes well for his progression moving forward. He has a solid looking shot, and if West Virginia can generate more catch-and-shoot looks for him, his percentage should definitely see an uptick (only 41.7% of his made threes were assisted last season – NCAA average ~82%).
Taz Sherman: 28-84 (33.3%)
Sherman was an inconsistent shooter in his first season with West Virginia (junior college transfer from Colin College), but finished 14/33 (42.4%) the last nine games. There's reason to believe this late shooting success wasn't a fluke either, as he shot 39.9% the season prior.
Emmitt Matthews: 32-73 (30.1%)
Matthews showed some progression as a shooter in his sophomore season (24.1% to 30.1%). 90.9% of his threes were assisted last season, suggesting the quality of looks wasn't the issue. Could Matthews progress a bit more? Of course, but the eye-test suggests an improvement in long-range shooting is more likely to come from other players.
Jordan McCabe: 14-67 (20.9%)
After a promising freshman season in which he hit 33.8% from three, McCabe really struggled with his shot last season (20.9%). His freshman campaign suggests an improved junior season is very realistic.
Sean McNeil: 29-88 (33.0%)
Similar to Sherman, McNeil shot a respectable percentage for the Mountaineers but showcased much more potential in his "pre-transfer" season (43.1% from downtown at Sinclair Community College).
Conclusion: West Virginia is unlikely to turn into a 3-point shooting juggernaut next season, but there's plenty of reason to expect improvement.
One Last Thought
Tshiebwe and Culver are arguably the team's two best players, but given the team's deep rotation, they don't share the court together as often as one might expect. In the team's last five games, only two of the team's ten most frequently used lineups included both big men.
It's possible splitting up their minutes is a good thing, however. Neither player made a 3-pointer last season, and the paint can clog significantly when both are on the floor. The one big approach provides each player more space to feast around the basket. In the Tshiebwe and Culver clips above, both came with the other off the court.