NCAA Basketball: The 3 best pick-and-roll big men for 2020-21 season
NCAA Basketball has plenty of talented big men, but three stand out above the rest when it comes to both their capability and versatility in the pick-and-roll.
When one think of a typical pick-and-roll (P&R), it likely involves a big man setting a screen for a ball-handler, diving towards the basket and then receiving a pass for a layup or dunk. From this perspective, the best P&R players 1) can effectively set a pick, 2) have the mobility to roll towards the rim and 3) have the capacity to finish when they receive the pass.
(Credit to KenPom, hoop-math and sports-reference for statistics and ESPN, Big Ten Network and ACC Digital Network for GIFS)
While this type of play remains very common in the modern game (and these skillsets are consequently valued), many bigs have become capable of doing even more with the P&R. It's not uncommon to see players 6-8 or taller not only rolling to the rim after screens, but "pick-and-popping" beyond the arc for 3-pointers.
The best P&R big men have the versatility to excel in both of these areas, and three players in particular this season stand out above the rest: Seton Hall's Sandro Mamukelashvili, Iowa's Luka Garza and Clemson's Aamir Simms.
Sandro Mamukelashvili – Seton Hall
Mamukelashvili is a 6-11, 240 lb senior forward that has the mobility of someone several inches shorter. Given the grace with which he moves on the floor, it's hard to believe he can almost be classified as a 7-footer.
The forward can stretch the floor with the best of them, hitting 23-53 (43.4%) from downtown last season (missed ten games due to injury). He's a formidable interior scorer as well, shooting 62.9% on 2-pointers in conference play.
In this year's season opener against Louisville, Mamukelashvili's pick-and-pop ability forced Louisville to abandon its conventional P&R defense. Rather than having the screener's defender help guard the ball-handler (before returning to the screener), the Cardinals had to start switching Mamukelashvili's screens to avoid giving him open looks from downtown.
The forward combatted this approach by 1) getting his shot off quickly and 2) mixing in rolls to the basket, using his size and body positioning to his advantage.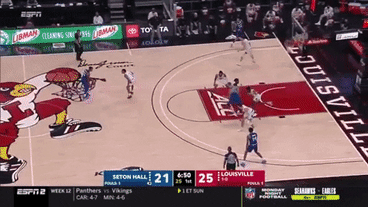 Even when defenders manage to close out on his 3-pointers, the forward has the ball-handling and playmaking ability to attack defenses. Seton Hall also gets creative using the forward as a screener. Below, he sets three picks before diving to the basket for an easy bucket.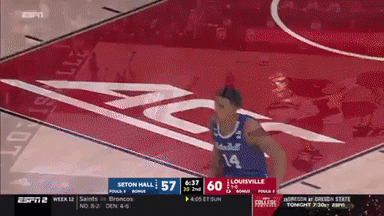 Seton Hall @SetonHallMBB using Sandro Mamukelashvili as a screener three times before Myles Powell finds him on the roll #NCAAB pic.twitter.com/1enrnhI6pH

— 1 Perfect Bracket (@1PerfectBracket) March 6, 2020

If future opponents adopt Louisville's strategy and switch the senior's screens, Seton Hall needs to 1) make sure Mamukelashvili makes smaller defenders pay and 2) have ball-handlers take advantage when bigger players (Mamukelashvili's initial defender) switch on to them. The Pirates no longer have Myles Powell to fill this role but Harvard graduate transfer Bryce Aiken looked capable against the Cardinals before exiting the game due to injury (reportedly out at least two weeks).
Luka Garza – Iowa
The 6-11, 265 lb senior forward was a monster offensively last season, losing a narrow vote to Dayton's Obi Toppin for the AP Player of the Year award. Garza averaged 23.9 points on 54.2% shooting, converting an elite 70.7% of his attempts at the rim per hoop-math. Only four teams (Syracuse, Dayton, Winthrop and North Texas) shot better than 70% at the rim as a whole.
Garza was arguably most effective when backing defenders down in the post, but his offensive brilliance carried over to the P&R as well. The big man has the ball-handling ability to both execute P&R's via dribble handoffs and take a dribble or two after receiving the pass if necessary. When Garza gets a head of steam towards the basket, few defenders can stop him.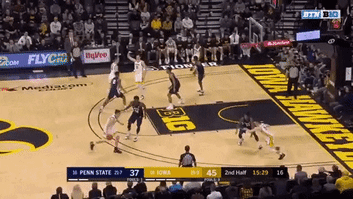 Like Mamukelashvili, however, it's Garza's 3-point shooting prowess that makes him one of the nation's best P&R threats. The forward hit 39-109 (35.8%) from downtown last season and is 3-4 through two games thus far (did I mention he's also averaging 33.5 points on 86.2% shooting?!?!).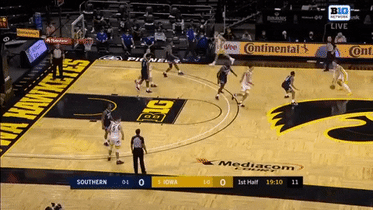 Aamir Simms – Clemson
The 6-8, 240 lb senior forward is the best player on an under-the-radar Clemson squad that has picked up two solid wins to open the season (53-42 over Mississippi State and 81-70 over Purdue).
Simms can do a little bit of everything, averaging 13.0 points, 7.2 rebounds and 2.2 assists last season. Partially attributable to his shorter stature, however, he generates a bit less of his offense on the interior compared to Mamukelashvili and Garza. These players attempted 49.4% and 47.0% of their shots at the rim respectively last season (converted 62.1% and 70.1%), while only 36.9% of Simms' looks came at the rim (made 63.9%).
The forward's versatility allows him to operate both in the mid-range and beyond the arc, and like his two fellow forwards, he's extremely dangerous in the P&R. Below, Simms shows off his ball-handling as he creates a P&R opportunity with a dribble handoff. After considering flashing to the 3-point line, he shows off his athleticism by darting to the basket, catching and finishing with strength.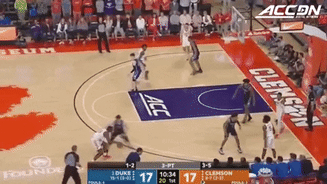 Simms is a capable pick-and-pop player as well, hitting 34-85 (40.0%) of his threes in 30 games in 2019-20. If he shoots at this clip again this season, he'll certainly be on the radar of plenty of NBA teams.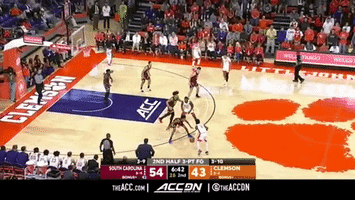 Honorable Mention
The P&R capabilities of the three players discussed will make them valuable offensive weapons all season, but there are other players that could have a comparable impact.
Jeremiah Robinson-Earl: Villanova
The 6-9, 230 lb sophomore forward showcased his potential in the Wildcats' 83-74 victory over Arizona State. Robinson-Earl dropped 28 points on 11-17 shooting (2-4 from three). He's already a dangerous roller to the basket, and if his 3-point shooting can become a bit more consistent (32.8% last season), he could become a special pick-and-pop player as well.
Nate Reuvers and Micah Potter: Wisconsin
The Badgers are fortunate enough to have two senior forwards that can score inside-and-out on P&R's. Reuvers (6-11) and Potter (6-10) both have the mobility and finishing ability to execute rolls to the basket, but it's the duo's shooting ability that makes them truly impressive (33.7% and 45.1% respectively last season).
Splitting the workload offensively limits each player's individual impact, but there may be no better P&R big man duo in the sport.